Crestfallen Katie Price mourns the departure of Peter Andre from her life....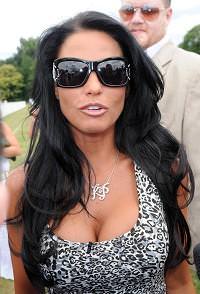 Or maybe not.
Actually, here's the article from MSN, which prompted this post:-
Katie Price on hunt for footballers from MSN UK:-
http://entertainment.uk.msn.com//celebrity/news/Article.aspx?cp-documentid=148669278

Katie Price is on the prowl for football stars, with Cristiano Ronaldo and Frank Lampard on her hitlist.

The model - who previously dated Dwight Yorke, the father of her first child Harvey - has revealed that with her marriage to Peter Andre behind her, she fancies 'doing' soccer stars and returning to the Wag circuit.

Asked in an interview with Glamour Magazine whom she had her eyes on, Price - aka Jordan - said: "Ronaldo. There's actually quite a few little footies I'd do. I'd probably go back to Frank Lampard and finish what I started."

The glamour girl was friends with Frank before she hooked up with Andre. The Chelsea star is himself single after recently splitting from Elen Rives, the mum of his two children.

Katie also revealed she had a soft spot for TV talent show guru Simon Cowell in the interview.

Meanwhile she has been hitting the town with her pal Michelle Heaton, the former Liberty X chart star. The pair were celebrating Heaton's 30th birthday with a bar crawl which took in five different bars and clubs at the weekend.

Okay, all I can say at the moment is...
"Eww."