I love this. It's so totally pointless.
Another great article brought to us by MSN tells of the fate of a lump of rocket-powered cheese.
Here's the link:-
Space Cheese
I'll reproduce the article below in case the link dies.
I find it amusing that the cheese (old technology) survived the trip while the GPS and onboard camera failed.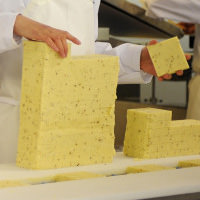 'Space cheese' returns to earth.

A lump of cheese fired into space has been found in a garden in Buckinghamshire.

The 300g block of cheddar was attached to a weather balloon and launched into the upper atmosphere from Pewsey in Wiltshire on Tuesday, as part of the moon landing anniversary celebrations.

It drifted up to the edge of space at 18.6 miles (30km) above sea level, where it was hoped the 1.6m-wide helium balloon would burst and return its smelly cargo to earth.

Organisers of the stunt had been worried as to the cheese's whereabouts after the balloon's GPS system broke down soon after launch.

The cheese was thought lost until a resident of Cressex found it in their garden and took it to High Wycombe police station on Wednesday night. The interstellar fromage was still in one piece but the flight-recording camera attached to the weather balloon had failed.

Dom Lane, of Shepton Mallet's West Country Farmhouse Cheesemakers group told the BBC: "I am driving back from High Wycombe with the cheese now. I may try a bit to see if it has matured at high altitude and then it will probably go into a glass case at our production offices."